Introducing the 2018 Chevrolet Traverse 
It's almost been a decade since the Chevrolet Traverse made headlines when it debuted in 2009, and yet it still continues to get all the right attention, thanks to its undeniable quality. Couple that with a family-friendly interior and design, and with an even friendlier price tag and you've got folks of different strokes wanting to get their hands on one for themselves.
For the 2018 version, you can expect a whole lot of changes and improvements, but still you can rely on one good thing about if for sure-it's quality on the road that you can trust.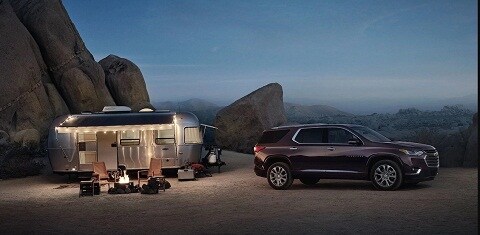 Expansive Comfort
The size of the Traverse alone will already have you wondering about just how spacious it is inside. Well, you're not going to be disappointed because it can comfortably seat up to as much as eight people inside. It's not just the passenger space that they've paid attention to, but also the cargo space. Indeed, it would be such a shame if a vehicle as big as the Traverse won't be able to maximize the space inside it at all.
Fortunately, they did pay the right attention to this detail, and so the space behind the third passenger row becomes the home for all things cargo on board. Another good barometer that it's passed is how the rear view is not blocked at all despite stacking luggage one on top of the other. If space is what you want, space is what you'll get in Traverse. 
Trim Levels and Aesthetics
The 2018 offering of the Equinox gives you a total of five different trim levels, namely the LS, LT, RS, Premier, Red Line, and High Country.
The LS comes with LED daytime running lamps, black lower moldings, and chrome-accented grille. The LT, meanwhile, adds halogen foglamps, body-color side mirrors, and 20-inch aluminum wheels. As for the RS trim, you can expect black bowties, black roof frails, and black ice grille and foglamp bezel, among others.
If you want the best of the best, however, you'd want to skip the Premier and the Red Line altogether and just jump right into High country. Here, you'll be treated to a High Country-exclusive Jet Black/Loft Brown interior, power-folding third-row seat, and a safety package so comprehensive, you literally will have access to each and every safety and convenience come-ons ever to come out in the Traverse.
Engine Performance
Not but not least, a sure-fire reason to get the 2018 Chevrolet Traverse is its engine performance. The updated version of this model features a standard 3.6-liter V6 engine, with a 310-horsepower engine, and paired with a 9-speed automatic transmission. 
There's something to appreciate about the power it delivers, smooth and sufficient in form, and a satisfying engine performance. Of course, the best way to really determine if this is the vehicle for you is to drive one for yourself. You can do that by setting up an appointment for a test drive in trustworthy car dealerships like McLoughlin Chevrolet. If you want to make a good purchase on the car lot, then rely on the pros to give you the information you need.