The 2018 Chevy Equinox may be small as compared to the other SUVs around, but it certainly does put up a great fight when it comes to throwing punches with its impressive features. No wonder it's been turning heads in the showroom above other new cars for sale. From an improved engine to an upgraded interior, there surely is a lot to see with the latest version of this midsize SUV. Check out its main highlights below.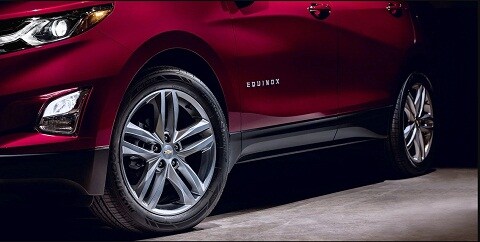 Engine Performance
The Equinox comes with a 1.5L 16-valve turbocharged 4-cylinder engine paired with a 6-speed automatic transmission, with 170 horsepower at 5,600 rpm, and 203 lb-ft of torque at 2,000 to 4,000 rpm. If you're particular about fuel economy, then you'll be glad to know that the Equinox Premier AWD runs with 24 mpg for city, 30 for highway, and 26 for combined. The 15.6-gallon tank on board all the AWD models also have a reserve, which makes for good reassurance that you'll enjoy a continuous long drive.
These specs under the hood also do walk the talk, as transmission has to be found as very efficient, particularly in terms of having a quick and smooth shifting. The suspension is also impressive with its undeniable stability and good steering control—very important components especially when you are out for long drives on the road.
Interior Comforts
Complementing the engine performance of this midsize crossover are the comfort and entertainment features inside. The seats, for example, are very much comfortable, which makes the ride something to look forward to, definitely. The front seats in particular have eight-way power adjustments, and even a two-way power lumbar. Meanwhile, the rear seats have enough leg room for a convenient ride, even if it's a long one. Add to that is its versatility by way of foldable seats so that the cargo space can be further expanded.
It's not just the seats that define the comfort of this vehicle, but also the little details such as the useful storage spaces discreetly integrated within for better organization. Phones, travel mugs and cups, sunglasses, and other passenger knick-knacks all have a place to stay inside the Equinox without proving to be a bother to the driver. The center console has also been duly expanded for this model, effectively adding arm rest support for the front seat passenger.
Technology Features
Adding to the creature comforts of those riding this vehicle are the controls that provide entertainment and ensure safety. Buttons and dials are available for both climate controls and audio needs, while a touch-screen interface allows you to access other interior features. There's also something for the iOs fan, with Apple CarPlay being already integrated in the system.
For safety, you can rely on the Equinox to be a safe and secure enough SUV to drive with your family around in. It's got a bevy of airbags on the ready, for one, including for the driver, the passenger, the front and rear head, as well as the front side air bag. The Equinox also features 4-wheel ABS and 4-wheel disc brakes, as well as electronic stability control and traction control. Daytime running lights and child safety locks also contribute to a much safer experience on the road.
All in all, the Chevrolet Equinox does make for an interesting choice among the many different new cars for sale today. It may not be as luxurious as other brands would like to portray themselves to be, but it does get the job done, and rather beautifully so. If you want to take a closer look at this option, it's advisable that you set an appointment with your trusted and reliable car dealer, such as McLoughlin Chevrolet, for more details.
Sources:
2018 Chevrolet Equinox Goes Small and High-Tech. ConsumerReports.org.
Review: 2018 Chevrolet Equinox. FreeP.com.